Update August 12th: War halted, see updated post
HERE
.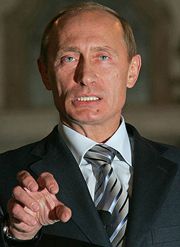 Georgia's parliament approved a request by President Mikhail Saakashvili on Saturday to impose a "state of war," as the conflict between Georgia and Russia escalated. However, the Georgian "state of war" order is neither a formal declaration of war nor a declaration of martial law within the country, but merely places the government on 24-hour alert and gives Saakashvili powers he would not ordinarily have, such as issuing curfews, restricting the movement of people or limiting commercial activities. Primary story from
CNN
, with a more current report from
McClatchyDC
and
Bloomberg
. Also read an analysis by
Edgar Steele
, who believes this conflict could be a precursor to a wider war.
In addition, the following media resources, a bit more proximate to the region, have provided consistent English-language reports on the situation:
Russia Today
: A Russian broadcast service which seems to be relatively non-partisan.
Pravda
: Pro-Russian bias, rewrites events to provide a pro-Russian spin. Still useful to provide additional perspective.
RIA Novosti
: Pro-Russian editorial bias, but generally presents facts as facts. Can be considered reliable. RIA Novosti also provides a complete chronicle of the Georgia situation since 1991
HERE
Hurriyet.com
: An English-language Turkish news service. Relatively unbiased, but Turkey itself is likely to be more sympathetic to Georgia due to its own historical rivalry with Russia.
Interfax
: A Russian news aggregation site. Considered unbiased.
In the latest developments on August 9th, Saakashvili accused Russia of launching an unprovoked full-scale military attack against his country, including targeting civilian homes, while Russian officials insist that their troops were protecting people from Georgia's attacks on South Ossetia, a breakaway Georgian region that borders Russia.
Russia's Interfax news agency said the death toll was at least 2,000 in the capital of South Ossetia and claimed that the city has been destroyed. Separatist-backed South Ossetian sources reported that about 1,600 people have died and 90 have been wounded in provincial capital Tskhinvali since Russian forces entered the territory Thursday.
Alexander Lomaia, secretary of Georgia's National Security Council, said that dozens of Georgian troops had lost their lives. "
Our losses are mounting ... as many as 40 military servicemen killed and over 100 wounded. The losses are also mounting among civilian population in the cities
", said Lomaia. Georgian officials also claim that Russia has mobilized its Black Sea fleet off the coast of Abkhazia, another breakaway Georgian province.
Russian Prime Minister Vladimir Putin arrived Saturday in Vladikavkaz, near Russia's border with Georgia. Putin's press secretary told Interfax that Putin was concerned about the flood of refugees arriving in Russia from South Ossetia. Russian officials said that more than 30,000 people have left South Ossetia and crossed into Russia over the past two days. But here's where Putin gets duplicitous.
"
The actions of the Georgian authorities in South Ossetia are a crime, of course, primarily a crime against their own people. This aggression led to numerous casualties, among civilians in particular, and virtually caused a real humanitarian catastrophe. And that is already a crime against the Ossetian people. At the same time, I would like to stress that Georgia has always been greatly respected in Russia and Georgians regarded as brotherly people
," Putin said.
Let's stop right there for a moment. Russia has virtually annexed South Ossetia, granted many of them Russian passports, and established a virtual protectorate over the area (although not recognizing their "independence"), and now Putin claims that the South Ossetians are a "Georgian" people? If this is true, does it not assert the right of Georgia to assert its sovereignty in South Ossetia by force? Putin shows his duplicity here; he wants to have it both ways.
And of course, once Russia's so-called "President" Dmitry Medvedev heard the party line officially expressed by the real boss, Putin, he immediately parroted a similar response. Medvedev also said that Georgia must be held responsible for the situation in South Ossetia. "
The people responsible for this humanitarian disaster need to be held liable for what they have done
," Medvedev said. He said the humanitarian problems were caused by "the aggression launched by the Georgian side against the South Ossetian civilians and Russian peacekeepers".
[Ed. Note: Because Putin handpicked Medvedev and personally ran interference for him to get him "elected", then was handed the premiership by Medvedev after the "election", it is widely perceived that Medvedev is a puppet of Putin. The Russian government has taken no concrete steps to dispel that impression. The fact that George W. Bush was elected by the Supreme Court rather than the American people in 2000 does not make the recent Russian "election" any less of a mockery.]
Georgian President Saakashvili asked Western leaders to pressure Russia to agree to an immediate cease-fire, which he said his country would willingly observe first. "
We are dealing with absolutely criminal and crazy acts of irresponsible and reckless decision makers, which is on the ground producing dramatic and tragic consequences
," Saakashvili said Saturday afternoon.
U.S. President George W. Bush, speaking from Beijing, China, called for an immediate halt to the violence, a stand-down by all troops and an end to the Russian bombings. A White House spokesman said Bush spoke Saturday evening to Saakashvili and Russian President Dmitry Medvedev.
Georgia, a former Soviet Republic, is a pro-Western ally of the United States intent on asserting its authority over
South Ossetia
and
Abkhazia
, which both have strong Russian-backed separatist movements. In 1992, when Georgia seceded from the former Soviet Union, South Ossetia and Abkhazia then began their attempts to secede from Georgia. The "Ossetian" people are divided between South Ossetia, officially part of Georgia, and North Ossetia, an integral part of Russia.
Russia moved troops into South Ossetia early Friday after Georgia launched an operation in the breakaway region when its unilateral cease-fire was met with what it said was artillery fire from separatists that killed 10 people, including peacekeepers and civilians. But the Russians haven't limited their attacks to South Ossetian targets. Russian forces bombed several targets in Georgia on Saturday. Russian aircraft bombarded military and civilian targets the port town of Poti, on Georgia's Black Sea coast, Kardava and British and Georgian officials said. Eight Georgians were killed in the port town. In the town of Senaki, just inland from Poti, Russian forces damaged a railway line, a military base, and a center housing civilians who fled from nearby Abkhazia. Military bases at Vaziani and Marneuli also came under attack.
In contrast, Georgia has launched NO attacks on Russian territory itself
.
Also Saturday, the commander of Georgian troops stationed in Iraq said the 2,000 soldiers there will be withdrawn "very soon." Colonel Bondo Maisuradze said the United States would provide the transport to get them out of Iraq. He said he had no time frame for the move. Saakashvili said Friday that the troops were needed in Georgia to defend against the Russian military.
[Ed. Note: It would be advisable for the U.S. military to provide a fighter escort for any transports returning the Georgian troops to Georgia, in case either the Russians or the Georgians are tempted to create an "incident".]
Commentary
: Putin's long term ambitions for the region must be called into question. It is time to seriously ask whether or not he intends to reconstitute much of the old Soviet Union, although in a more "independent-appearing" form, somewhat reflecting
Aleksandr Solzhenitsyn's vision of a united Slavic state
consisting or Russia, Ukraine, and Belarus, minus the Central Asian Republics. Consider Putin's record of increasingly assertive and aggressive behavior:
(1). The budding Sino-Russian alliance known as the Shanghai Cooperation Association acquired a military character for the first time last summer when Russian and Chinese troops conducted joint exercises.
(2). Russia's resumption of aggressive probing bomber flights.
(3). Putin's offhand remark to Bush about the Ukraine, claiming that "
the Ukraine isn't even a state
".
(4). Putin's
renewed romance with Cuba
, although he claims he does not intend to make it a military alliance.
This escalating trend of assertive behavior by Russia brings their long term intentions into question. Too bad we allowed ourselves to get suckered into Iraq and bled both humanly and financially - we are hardly in a position to intervene militarily in the Caucasus.