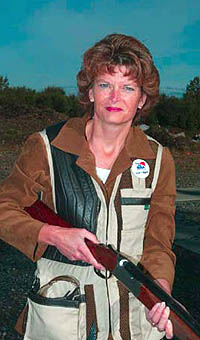 Manchurian Candidate John McCain has been styling, profiling, and arrogantly swaggering like the fighter pilot he once was since his victory in the Florida primary. He was even quoted in
USA Today
as saying that he thinks "we may be able to wrap this up on Tuesday".
Well, guess what, McAmnesty? Better put the wrapping paper away for now! Alaska's junior
Republican U.S. Senator Lisa Murkowski
(
pictured at left
) has just dropped a speed bump right across the path of your so-called "juggernaut". Murkowski has just announced that she's endorsing Mitt Romney for the Republican nomination. And, despite her "junior" status in the U.S. Senate, she has more stroke than many at her particularly level of seniority.
While this announcement was initially posted on the
Anchorage Daily News
' official
Alaska Politics
blog, and also reported on
KTUU Channel 2
, there's a more detailed version, plus the Romney campaign's response, posted on the
official Mitt Romney campaign website
:
Murkowski's statement:
"Governor Romney is the proven executive that Alaskans and all Americans need in the White House. At this time of economic uncertainty, we need a leader who actually understands how the economy works and why jobs are created. That leader is Mitt Romney. Furthermore, he has promised to tackle some of our country's most long-standing challenges, including energy independence. Like most Alaskans, he also supports opening up ANWR," said Senator Murkowski. "On Tuesday, Republicans in Alaska face a critical decision, and the choice is Mitt Romney."

Romney's response:
Announcing Senator Murkowski's support, Governor Romney said, "Senator Murkowski has been a strong voice in the United States Senate for confronting the long-term economic challenges confronting her state and our nation today. She understands the importance of making our country independent of foreign oil and recognizes we can do that by developing more sources of domestic energy. In the coming days and months, I look forward to working with her to build a stronger America."
Romney was busy earlier on Saturday, February 2nd,
attending the funeral service for the late LDS Church President Gordon B. Hinckley
in Salt Lake. He did not talk to the media before flying off to Minnesota. Romney also appears to be enroute to a one-sided victory in the
Maine Republican caucuses
The
Council of Conservative Citizens
provides us a whole laundry list of reasons why we shouldn't support John McCain:
Voted YES on establishing a Guest Worker program. (May 2006)
Voted YES on allowing illegal aliens to participate in Social Security. (May 2006)
Voted YES on giving Guest Workers a path to citizenship. (May 2006)
Voted YES on allowing more foreign workers into the US for farm work. (Jul 1998)
Supports federal funding of embryonic stem cell research. (May 2007)
Voted YES on expanding research to more embryonic stem cell lines. (Apr 2007)
Voted NO on constitutional ban of same-sex marriage. (Jun 2006)
Voted NO on ending special funding for minority & women-owned business. (Oct 1997)
1st Amendment - Freedom of Speech not a shield for hate groups. (Aug 1999)
NAFTA has had unambiguously positive impact on US. (Mar 1999)
Pro-NAFTA, pro-GATT, pro-MFN, pro-Fast Track. (Jul 1998)
Voted YES on implementing CAFTA for Central America free-trade. (Jul 2005)
Rated 100% by CATO, indicating a pro-free trade voting record. (Dec 2002)
Supports ban on certain assault weapons. (Aug 1999)
Guns are a problem, but so are violent web sites & videos. (Aug 1999)
Punish criminals who abuse 2nd Amendment rights. (May 1999)
Voted YES on more penalties for gun & drug violations. (May 1999)
Voted YES on reauthorizing the PATRIOT Act. (Mar 2006)
Voted YES on extending the PATRIOT Act's wiretap provision. (Dec 2005)
The Council of Conservative Citizens also discloses that
Ross Perot is unhappy with John McCain
, claiming that McCain sold out our POWs. Perot seems to believe that McCain, as senator, hushed up evidence that live POWs were left behind in Vietnam. He claims some were even transferred to the Soviet Union for human experimentation, a charge he says he heard from a senior Vietnamese official sometime in the 1980's. "
There's evidence, evidence, evidence
," Perot claims. "
McCain was adamant about shutting down anything to do with recovering POWs
." McCain, he says, "
is the classic opportunist–he's always reaching for attention and glory. Other POWs won't even sit at the same table with him
."
Commentary
: Senator Murkowski's endorsement is expected to strengthen the Romney campaign in Alaska. In a
KTUU poll taken in December 2007
, Romney tied with McCain for last. However, since that time, Giuliani and Thompson dropped out of the race. But Mike Huckabee, who finished second in that same poll, remains strong, particularly since he obtained the endorsement of
Alaska Right To Life
. The evangelicals will line up behind him. But Ron Paul, who won that December poll, remains the favorite.
However, one of Mitt Romney's sons, Josh Romney, has visited Alaska twice, the first time in
September 2007
, and
again on January 31st
. And just this evening (Feb 2), Janet Huckabee, who is in Alaska campaigning for her husband, who intends to remain in the race past February 5th, gave an interview on KTUU Channel 2.
Thus, on February 5th, I expect a close race in Alaska between Ron Paul, Mike Huckabee, and Mitt Romney, with John McCain finishing a distant fourth, primarily because of his anti-ANWR stance. I still think Ron Paul can pull it off.