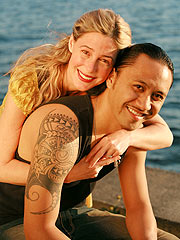 A recent Associated Press investigation on sex abuse in schools is being criticized as biased and harmful to abuse victims. Experts say the study used flawed methods and reached faulty conclusions. Read the full story published on the
MichNews website
.
The problem, as identified by critics, is that complaints about female sexual predation are not as readily believed as complaints about male sexual predation, which may result in the under-reporting of female sexual predation. "
When a female teacher becomes sexually involved with a student, the child's complaint is often not believed and the woman's misconduct is less likely to incur criminal sanctions
," explains Gordon Finley, psychology professor at Florida International University. "
By ignoring that gender double standard, the AP has done a tremendous disservice both to victims and to female teachers who need treatment
."
The
American Association of University Women
(AAUW) also significantly disagrees with the AP study's findings. Their student survey showed that 43% of sexual abusers were male, vs. 10% in the AP study. While MichNews does not name the particular survey, the AAUW website reveals a 2005 study entitled "
Drawing the Line: Sexual Harassment on Campus
", viewable either as a
4-page Executive Summary
or the
72-page full report
, both in PDF format. However, while the AAUW study was broad-brush, the AP study restricted itself only to official school district disciplinary actions (which may reflect biased reporting on the part of school districts).
And
R.A.D.A.R.
(Respecting Accuracy in Domestic Abuse Reporting), a non-profit, non-partisan organization of men and women working to improve the effectiveness of our nation's approach to solving domestic violence, takes issue with this restriction. "
The misconduct of Debra Lafave, Mary Kay Letourneau (pictured above left), and countless other female sexual predators has been widely publicized. So why did the AP choose to focus only on school disciplinary actions
?" asks David Heleniak, Esq., RADAR spokesman. "
We urge the Associated Press to do a follow-up story that addresses the long hidden problem of female sexual abusers
."
Back to the credibility problem. The
Canadian Children's Rights Council
states
in their own report
that even when a complaint is filed, "
86% of the victims of female sexual predators aren't believed, so the crimes go unreported and don't get prosecuted
". Worse yet, according to a
2005 USA Today report
, many actually view female sexual predation as the "Mrs. Robinson Syndrome" and conclude that everything is OK, according to Dale Potter, a Tennessee district attorney.
The double standard extends into the courtroom. District attorney Tony Rackauckas of California has observed that female sex offenders are not sentenced "
to the same kind of lengthy prison sentences that the men get
," according to a
2006 CBS News Early Show report
on female sex offenders.
However, the skewed reporting does not make the AP survey without value. According to the original AP story, posted
HERE
, a seven-month investigation found 2,570 educators whose teaching credentials were revoked, denied, voluntarily surrendered or limited from 2001 through 2005 after allegations of sexual misconduct.
The AP found that young people were the victims in at least 1,801 of the cases, and more than 80 percent of those were students. More than half of the educators who were punished by their states were also convicted of crimes related to the misconduct.
In nearly nine out of 10 cases nationwide, the perpetrators are male
. While some were accused of abusing students in school, others were cited for sexual misconduct after hours that didn't necessarily involve a child from their classes.
The AP discovered efforts to stop individual offenders but, overall, a deeply entrenched resistance to recognizing and fighting abuse. That enables rogue teachers, and puts children who are not likely to be believed into a tough spot.
According to the AP, very few abusers are caught. Academic studies estimate that only about one in 10 victimized children report sexual abuse of any kind to someone who can do something about it. When it is reported, teachers, administrators and some parents frequently don't -- or won't -- recognize the signs that a crime is taking place.
While I could not find any source of the raw survey data, the graphic below, courtesy of the Salt Lake Tribune, will provide some perspective on the problem and its distribution:
Commentary
: Here are two other possible reasons for the disparity in reporting male abuse vs. female abuse. First, machismo. Guys who report sexual abuse may be looked down upon by thie peers. Since females are generally weaker than males physically, a guy who complains about being abused by a female will be portrayed as a "wuss". Second, feminism. While feminism professes "gender equality" as its goal, the real objective has been female supremacy. This means that women can be equal as long as they benefit, but when it goes against them, they jump back up on the pedestal. Consequently, many are reluctant to highlight misbehavior by women for fear of appearing "sexist". More on the impact and origin of feminism posted on the
Vanguard News Network
.
And how does Alaska fare in this study? Fortunately, Alaska is ahead of the curve on this problem. While the AP survey showed that 26% of educator misconduct cases nationwide from 2001 through 2005 were punished, 29% of such cases were punished in Alaska, according to a story published October 21st, 2007 in the
Anchorage Daily News
. This averages out to slightly more than two cases per year throughout Alaska's 500 schools.
Alaska's laws were significantly strengthened in 1990 after a case in which charges were dropped against an Anchorage teacher accused of having sex with an underage student. The charges were dismissed because the age of consent was 16 with no qualifying factors. As a result, the Alaska State Legislature passed a law making it a felony for someone in a position of authority, say, a teacher, to have sex with a minor even if that person is of legal consenting age.
Sanna Green, who served as chair of the
Professional Teaching Practices Commission
, said the new law did not necessarily give the commission new licensing powers, but it provided additional legal grounds for its code of ethics. "
I had not felt constrained before because we could sanction an educator when a jury would not find them guilty, but the law clarified everything for us
," she said. The laws are considered even strong enough for the commission to revoke a license without a criminal conviction.
However, if a complaint against a certified teacher warrants an investigation, school districts tend to respect the presumption of innocence and customarily wait until law enforcement completes its work, in order to avoid the
incredible waste of resources currently taking place in New York City where 757 teachers are being paid full salary while in "limbo"
, awaiting the results of their investigations
.
Lawmakers, victims' advocates and state licensing administrators point out that subsequent additional laws, the advent of national databases used to review a teacher's history and a detailed 12-page license application have also helped. The state's application for a certification requires meticulous documentation of an applicant's criminal history. On the first page it asks about convictions, pending suspensions or revocations, and any outstanding criminal charges, including impaired driving.
Locally, the Anchorage School District, the state's largest district, requires teachers to go through an "
adult-student boundary training
," said Margo Bellamy, the district's director for equal opportunity compliance. "
The training is consistent and ongoing
," Bellamy said. "
They need to know what the obligations are to the student, the public and to us
," Bellamy said. "
If there's a problem, it won't be because they didn't know or didn't have the information
".