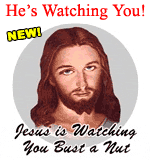 The
Ministry Watch
website has designated 28 ministries in its database with a letter grade of "F" for transparency. This means that, according to their standards, these ministries utterly fail to publicly account for their financial expenditures. However, the "rogues" may be the exception; a casual glance at all ministries in the database indicates over two-thirds earned a letter grade of "B" or better, and over half earned a grade of "A". Yet some of the "rogue" ministries are among America's most prominent, including John Hagee Ministries.
Triggering my interest in this issue was a report written by J. Grant Swank Jr., entitled "
Evangelists Who Betray Jesus
", and posted on the MichNews website today (September 5th, 2007). In this report, Swank refers to a
Ministry Watch report
of 28 ministries receiving a grade of "F". However, further examination revealed that this report was published back in April 2004. So I visited the Ministry Watch website to find out if the report was still current.
And guess what? It wasn't. Ministry Watch has since issued
an updated report
, dated May 2007. While most of the same ministries panned on the 2004 report were also on the 2007 report, the status of four on the 2004 report had changed. First, Christian Men's Network is no longer listed in the
Ministry Watch database
. However, the other three have made dramatic improvements. Both Impact Productions and Quiet Hour now show letter grades of "B" on the master list, while Goad International has jumped all the way to a letter grade of "A". In addition, Ministry Watch has slightly changed their transparency algorithm since 2004. This discrepancy indicates sloppy reporting on Grant Swank's part, and, as a frequent contributor to MichNews, he should know better. But then again, that's why the blogosphere exists, to catch these discrepancies and expand upon the stories.
What is transparency
? It's simply the measure of a ministry's track record in publicly accounting for how they use donations. Ministry Watch measures four factors: Timeliness, Financial Information, Foundational Clarity, and Level of Cooperation. Click
HERE
for a more complete description.
Transparency is not to be confused with Efficiency, rated separately. Each ministry's efficiency is rated from one star up to five stars. Efficiency simply measures how much bang for a buck the ministry generates. Three parameters and measured: Fund Acquisition, Resource Allocation, and Asset Utilization. Click
HERE
for a more complete description.
A ministry may have a good Efficiency rating because they use their resources wisely, but fail the Transparency test because they won't hold themselves publicly accountable. So a low Transparency rating doesn't automatically mean a ministry is crooked. However, I would not contribute to a ministry which fails the Transparency test, because I have no way of knowing just how accountable they are.
Here are the 28 ministries receiving a letter grade of "F" in Transparency from Ministry Watch as of May 2007 (Note: When you click on the ministry names below, it does NOT take you to the ministry's own website, but to a Ministry Watch summary of the enterprise):
Kenneth Copeland Ministries
John Hagee Ministries/ Global Evangelism Television
March for Jesus, USA
Amazing Facts
Kenneth Hagin Ministries/ RHEMA/ The Word of Faith
World Mission Prayer League, Inc.
Joy of Jesus, Inc.
Your Story Hour
Metro Ministries International
God's News Behind the News
Lesea, Inc./ Lester Sumrall Evangelistic Association
Jubilee Network/KFUO AM 850
TD Jakes Ministries / Potters House of Dallas, Inc.
Benny Hinn Ministries / World Outreach Church/ World Healing Center Church
Crystal Cathedral Ministries / Robert Schuller
Revival Ministries International/ Rodney Howard-Browne
African Children Welfare Foundation
Ever Increasing Faith / Fred Price
High Adventure Ministries, Inc.
Trinity Broadcasting Network / TBN/ Paul & Jan Crouch
Prophetic Image Expressions/Kim Clement
Creflo Dollar Ministries
Vineyard Music Group
Breakthrough Ministries / Rod Parsley
Children's Survival Fund, Inc.
Bible Broadcasting Network / BBN/ Lowell Davey
East Gates International
Manna International Relief and Development
Howard "Rusty" Leonard walked away from a seven-figure salary and, along with his wife Carolynn, to enter the ministry in the early 1990s, when he felt moved upon to start monitoring the integrity of these Christian ministries. They first started Wall Watchers, aimed at bringing improved levels of disclosure and accountability to Christian ministries.
Over time the concept for the ministry took on a greater scope, incorporating the whole realm of stewardship. In July 1998 Mark Long joined in the vision and Wall Watchers was incorporated in the State of North Carolina, and in August 1999, Wall Watchers received recognition from the IRS of its status as a 501(c)(3) public charity.
In September 1999, Wall Watchers launched
thegoodsteward.com,
an educational web site aimed at helping and equipping people to become better stewards. An informational web site (
http://www.wallwatchers.org/
) was launched in December 1999 making Wall Watchers vision, mission and intentions more accessible to the public. In September 2000, MinistryWatch was launched, providing the donating public with access to organizational and financial profiles on what is now 503 of the largest Christian ministries in the United States.
Commentary
: Some of the ministries on the list are no surprise. Benny Hinn has always struck me as being a bit creepy. Rod Parsley comes across like a classical carnival barker; some of his gimmicks like "burning debt" and sending people pieces of "blessed cloth" always seemed squirrelly to me. And TBN - good God, it's hard to believe they're for real.
But one of the major disappointments is John Hagee. When I first started watching his program ten years ago, this guy strictly preached the Bible. He fulminated against sexual sins, particularly homosexuality. Unlike many preachers, he didn't back away from Leviticus 20:13, either. Then he began to change. He started peddling Christian Zionism - slowly, at first, then more exclusively. Now he's become a full-fledged Israel-worshipper. Sad. I stopped watching his program a couple of years ago because of his blatant, shameless Semitophilia.