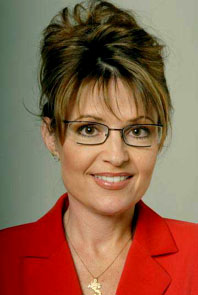 A newly-released poll by Ivan Moore shows Alaska Governor Sarah Palin enjoying an incredible popularity rating of 89%, and approval seems to be universally high amongst all segments and regions of Alaska.
Primary story
published in the Anchorage Daily News; click
HERE
to see raw poll results.
The raw poll shows the following breakdown:
Very Positive: 50.3%
Somewhat Positive: 39.0%
Neutral: 6.0%
Somewhat Negative: 3.9%
Very Negative: 0.8%
And Governor Palin has earned high ratings from every constituency and every region. Amongst conservatives, she's obviously strongest, but 82.1% of "progressives" approve of her. By age, she's strongest amongst middle-aged and seniors, but even 83.8% of the 18-49 demographic approve of her. By region, she's strongest in the MatSu-Kenai-Valdez belt and in rural Alaska, but even 83.3% of the Southeast, which gave its heart to Tony Knowles in the November 2006 general election, approve of her performance.
The Anchorage Daily News also reported that a Dittman Poll taken just two weeks earlier showed a 93% approval rating for Governor Palin, but I've not been able to find the raw information so far. There is a 55-page report entitled "
Alaska Senate Research Report
" about an April 2007 Dittman poll showing that more Alaskans (89%) trusted Governor Palin to carry out ethics reform than anyone else (scroll down to page 30 of the report).
The Ivan Moore poll surveyed 500 people throughout the state. Not only was the governor's performance rating polled, but respondents were asked their opinion about Governor Palin's
Alaska Gasline Inducement Act
(AGIA). However, AGIA itself did not receive such a ringing endorsement as its author; just under fifty percent of respondents said they thought Palin's gas line law would increase the chances of a North Slope pipeline getting built to transport natural gas to the Lower 48. Twenty-one percent of respondents said the gas line law was flawed, but 29% had no opinion at this time. The excessively high latter figure probably reflects the complexity of the issue more than any other factor.
Although political polling numbers can fluctuate week to week, Jennifer Duffy, an analyst at the Beltway-based
Cook Political Report
points out that Palin's numbers have consistently been extremely high, putting her near or at the top among the nation's governors. "
She is only the 14th person in the nation to take out an incumbent governor in a primary. That's about the hardest thing you can do in politics, so she was starting from a good point
," Duffy said.
Palin beat then-Gov. Frank Murkowski in last August's Republican primary before winning the general election in November. "
In a lot of ways that was the race, so she started in a good position
," Duffy said.
In a political environment increasingly tainted by the extent of the growing VECO scandal, which has engulfed three former and one current state legislature, and threatens at least two others, analysts claim Palin's high ratings stem from making good on campaign promises such as getting the gas pipeline legislation passed and promoting a more open government. "
She's managed to communicate well with Alaskans, and that's what popularity is all about
," said Randy Ruedrich, the head of the state Republican Party.
Larry Sabato, a political scientist with the
Center for Politics
at the University of Virginia, believes the VECO scandal may have propped up her ratings. "
She's a woman, anti-establishment and anti-corruption at a time when Alaska is thoroughly embarrassed by the degree of corruption that has been seen by the FBI investigation into lobbyists, business executives and state legislators
," Sabato said. "
People view her as breath of fresh air
."
Governor Palin's commitment to political integrity was reinforced when she called upon former UA Regent Jim Hayes to resign his position after he got indicted.
Hayes eventually resigned of his own accord
. Palin has also called upon her own State Representative Vic Kohring to resign his position in the wake of his indictment. Kohring has refused to resign so far, although
another Ivan Moore poll
shows Kohring's numbers heading south in a big hurry.
However, Sabato also believes Palin's current ratings are unsustainable in the long run. "
You can't please 80 to 90 percent of the people all the time
," he said. Sabato also predicted Palin's numbers would fall when she is forced to make her first big, controversial decision.
Governor Palin herself has previously dismissed political opinion polls, saying she doesn't rely on them as a gauge of true popular opinion or to get her job done. Undoubtedly she also remembers that former President George H. W. Bush went from a 91% approval rating after the first Iraq War in 1991 to being a private citizen one and a half years later.
Rival pollster Dave Dittman believes Palin's popularity makes it easier for her to push her agenda, as it was the case with AGIA. He further claimed her agenda is also making her more popular, he said. "
People liked the idea of competitiveness, of an open process and not having a pipeline monopoly. They like her, and they like AGIA. So it worked both ways
," he said.
Commentary
: Governor Palin's personal integrity and commitment to ethics are indeed her baseline strength. Most Alaskans perceive her as honest and incorruptible.
However, her personality is another major factor. Unlike Frank Murkowski, who projected himself as remote and unapproachable, Sarah Palin continues to come across as a real person, no different than many of the other soccer moms who populate Alaska. There's not an imperious or officious bone in her body. She projects class without being a snob, which is a difficult line to walk. Most Alaskans can personally relate to her.
A few wags have even suggested
she might make a good running mate for whoever the 2008 Republican Presidential nominee might be
. First, that's a no go, because we don't want to lose her so soon. Lieutenant Governor Sean Parnell has the competency to replace her, but Palin didn't run just to serve for two years. In addition, Palin has disavowed any further political ambitions for the time being.
Second, I don't think she'd be compatible with some of the leaders. Could someone with Palin's commitment to ethics really be at ease with opportunistic hustlers like John McCain or Rudy Giuliani? NOT! Perhaps Mitt Romney or Ron Paul might be more her speed; Palin shares a number of Paul's libertarian instincts.
Sarah Palin would make a good vice-president, but 2008 is too soon.