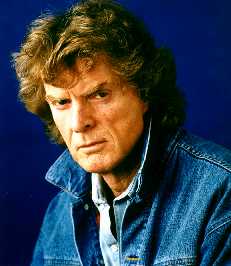 MSNBC announced on April 11th, 2007 that it will drop its daily simulcast of the "Imus in the Morning" radio program, in response to perceived growing outrage about the radio host's so-called "racial slur" against the Rutgers women's basketball team (
Don Imus pictured at left courtesy of
Nndb.com
). According to the NBC News statement, "
This decision comes as a result of an ongoing review process, which initially included the announcement of a suspension. It also takes into account many conversations with our own employees
". The announcement also was made on air. This post consolidates and summarizes information from stories on
Fox News Channel
and
CBS News
.
Apparently Don Imus' penchant for pushing the envelope in the past also influenced the decision (previous incidents discussed in an
article on the Workers.org website
, which is an anti-white site). "
I take no joy in this. It's not a particularly happy moment, but it needed to happen
," NBC News President Steve Capus said. "
I can't ignore the fact that there is a very long list of inappropriate comments, of inappropriate banter, and it has to stop
". The growing list of sponsors announcing their intent to pull ads from Imus' show, to include American Express Co., Sprint Nextel Corp., Staples Inc., Procter & Gamble Co., and General Motors Corp., was not cited as a reason that the original two-week suspension escalated into a termination. However, according to a
Deseret Morning News report
, Sprint last year spent more than $360,000 running ads on Imus' MSNBC morning show, while General Motors spent almost $692,000,
so the sudden loss of two advertising accounts worth over $1 million undoubtedly was a consideration
. However, in the wake of Imus' firing, it is rumoured that Sprint and Proctor & Gamble might reconsider their decisions.
Imus triggered the uproar on his April 4th show, when he referred to the mostly black Rutgers women's basketball team as "nappy-headed hos". His comments have been widely denounced by civil rights and women's groups. Both the National Association of Black Journalists and the NAACP called for his firing.
Thanks to the
Associated Content website
, we have a transcript of the April 4th remarks in question, illustrating the context in which they were uttered. Here is the excerpt:
DON IMUS: So I watched the basketball game last night between a little bit of Rutgers and Tennessee, the women's final.
SID ROSENBERG: Yeah, Tennessee won last night, seventh championship for Pat Summitt, I-Man. They beat Rutgers by thirteen points.
DON IMUS: Some rough girls from Rutgers. Man, they've got tattoos and -
BERNARD McGUIRK: Some hardcore hos.
DON IMUS: That's some nappy-headed hos there, I'm going to tell you that. Man, that's some -- ooh! And the girls from Tennessee, they all look cute, you know, so -- like kind of like a -- I don't know.
BERNARD McGUIRK: A Spike Lee thing.
DON IMUS: Yeah.
BERNARD McGUIRK: The Jigaboos versus the Wannabes -
DON IMUS: Yeah.
BERNARD McGUIRK: That movie that he had?
DON IMUS: Yeah, it was a tough -
CHARLES McCORD: Do the Right Thing.
BERNARD McGUIRK: Yeah, yeah, yeah.
DON IMUS: I don't know if I'd have wanted to beat Rutgers or not. But they did, right?
SID ROSENBERG: It was a tough watch. The more I look at Rutgers, they look exactly like the Toronto Raptors.
DON IMUS: Well, I guess, yeah.
LOU RUFFINO: Only tougher.
This decision does not affect Imus' nationally syndicated radio show on New York's CBS radio affiliate WFAN, and the ultimate decision on the fate of that program will rest with executives at CBS Corp. In a statement, CBS reiterated that Imus will be suspended without pay for two weeks beginning on Monday, and that CBS Radio "will continue to speak with all concerned parties and monitor the situation closely". However, ominous rumblings emanated from one of the 13 members of CBS' board of directors, Bruce Gordon (
pictured at left, courtesy of
Gettysburg College
), who is black AND a former head of the NAACP. Gordon said before MSNBC's decision Wednesday he hoped the broadcasting company would "make the smart decision" by firing Imus.
"
He's crossed the line, he's violated our community
," Gordon said during a telephone interview. "
He needs to face the consequence of that violation
." Gordon further explained that he had spoken with CBS chief executive Leslie Moonves and hoped the company, after reviewing the situation, would fire Imus rather than let him return to the air at the end of his suspension. However, a CBS spokesman, Dana McClintock, declined comment on Gordon's remarks.
Ironically, NBC's decision came at a time when Imus' MSNBC program was doing better competitively than it ever has been. For the first three months of the year, the size of its audience was nearly identical to that of CNN, leading CNN to replace its morning news team last week.
Rutgers' womens basketball coach, C. Vivian Stringer, expressed satisfaction with MSNBC's decision to fire Imus, although she did not originally call for his termination. Earlier she had criticized Imus for "racist and sexist remarks that are deplorable, despicable, abominable and unconscionable." The ten-woman team, eight of whom are black, will still to meet with Imus privately next Tuesday and hear his explanation. The Deseret Morning News also
interviewed
one of the two white players, Katie Adams (
pictured at left, courtesy of
Deseret News
), who grew up in Ogden. "
It's hurt us in a big way
," said Adams, a junior guard and a psychology major. "
I can't even explain, really. It just hurt us all very much. It's affected us as a team; it's affected us individually; it's affected our families; it affects any woman or minority
", she continued.
Imus has apologized repeatedly for his comments. He said Tuesday he hadn't been thinking when making a joke that went "way too far." He also said that those who called for his firing without knowing him, his philanthropic work or what his show was about would be making an "ill-informed" choice.
The Raw Story website
reports that several Presidential candidates also reacted to Imus' remarks. Sen. Barack Obama (D-IL) publicly called for the veteran host's firing. In an interview with ABC News, Obama said that "...
there's nobody on my staff who would still be working for me if they made a comment like that about anybody of any ethnic group. And I would hope that NBC ends up having that same attitude
."
Sen. John McCain (R-AZ) differed on the growing backlash against Imus, saying, "
He has apologized. He said that he is deeply sorry. I'm a great believer in redemption
."
Former New York City mayor Rudy Giuliani also told reporters that he had called Imus and felt that "
he understands that he made a very, very big mistake
."
Sen. Hilary Clinton (D-NY) released a statement on her website blasting Imus' remarks as "small-minded bigotry and coarse sexism," but fell short of calling for the radio host's removal.
John Edwards seemed to echo McCain at a campaign stop Wednesday when he said of Imus, "
I believe in redemption, I believe in forgiveness
."
CBS News is running a non-scientific poll to determine public reaction. As of this post, 44% of respondents agree with Imus' firing, while 56% disagree. This indicates the persecution of Don Imus is elite-driven and not representative of mainstream America. CNN also received and
published a number of comments
from people who believe that Imus should be forgiven and not fired. Here is a small sampling:
Dan Beckham of Mathis, Texas
I watch Imus every day and have been for quite a few years. I don't agree with him on a lot of things and I think his comments directed toward the young women of Rutgers were absolutely wrong. I also believe in accepting a man's apology and listening to him when he says he is going to make amends and is going to change for the better.

I strongly feel that if Al Sharpton and Jesse Jackson really want to help their people, then they should do more to help solve the many problems that are facing them. Sharpton and Jackson's energy and focus should be directed toward black rappers who are doing untold harm to the black community. As they work on that they need to help solve drug-selling and using, which is rampant in the black neighborhoods. I feel as many people do that Sharpton and Jackson use the black people more than they help them. Actually, I compare what the black leaders are doing to what Congress does most of the time, which is next to nothing. Instead of really addressing issues and finding solutions to problems, they spend their time chasing after frivolous events that wind up helping no one. It really is disgraceful and seems pretty apparent to me that what we have here is business as usual with no end in sight.

Susan of West Palm Beach, Florida
The comments Imus made are without a doubt inappropriate but certainly no more so than the rap and hip-hop so-called "music" that we tolerate and indeed give awards to. If Imus gets fired for this then it would be an outrageous exhibit of a double standard, unless the rappers and hip-hoppers are required to clean up their lyrics if their "music" is to be for public consumption. I am not condoning Imus' behavior. I think it is all inappropriate. This is not just about race or gender -- it is about becoming so desensitized that we don't know how to be civil anymore. The media, sadly to say, is a major culprit and reality TV is one of the worst offenders. It is disgraceful and has to stop.

Donna Hartl of Pleasanton, California
His comments simply reflect what has been accepted from black entertainers for years! Obviously, only whites are "fair game" -- only minorities presently enjoy free speech -- whites do not!

Donna Hadley of Columbia, Maryland
Let me qualify this by stating I am a black woman -- I think women in all demographics should hold everyone accountable who spouts these kinds of words as "pronouns" for women. However, I believe that Imus never would have dreamt it was OK to use these terms had black rappers not paved the way into pop culture (again over radio waves) for such disrespect, by combining vulgarity against all women, with emotionally stirring rhythms and calling it music.

Personally, I wouldn't mind if Imus kept his job, since his misguided and ill-thought comment provides such a great avenue for this discussion.

Connie Chamberlin of Molino, Florida
Since we are a free speech country, anything and everyone is fair game. That being said, we also all have the right not to listen to anything we find offensive. I see it as a supply and demand issue -- if there's no audience, there will be no sponsors, so there will be no show. Turn the junk off!!!

And one of my fellow Alaskans, Mark Jaynes of Fairbanks, also weighed in
I think the only "fair" game is ourselves. By denigrating yourself you send the message that you are no better than anyone else. Of course, the whole concept of being "better" is ludicrous, but then after all, humanity is a primitive affair.
And finally, CBS News senior political correspondent Jeff Greenfield made the most telling observation to date. "
If you can't get redeemed once people make an inflammatory remark, then there are many people who shouldn't be in the public eye
", said Greenfield.
Commentary
: Did anyone really think that Imus would get off with just a suspension? There is no forgiveness for sins against political correctness in Amerikwa, as Mel Gibson found out last summer when he popped off against the Jews.
There is no need for a KGB in America. Corporate America has been fully co-opted as a proxy enforcer of political correctness. When a person can lose a job overnight for saying the "wrong" thing, it is a powerful motivator to promote compliance and chill discussion and dissent. It's only a matter of time before people are incarcerated for dissent, as Ernst Zuendel and Germar Rudolf are in Germany. And, as Donna Hartl so bluntly revealed in her comment, there is clearly a double standard against whites.
What's particularly frustrating is that I once watched the Imus' program on MSNBC, and, for the most part, I considered him an overbearing, pompous blowhard who occasionally cracked a funny joke. Now Jesse and Al have turned him into a "hero". Way to go, assholes.
I don't think this will be the last we hear of Imus. If satellite radio was willing to sign Howard Stern to a megabucks contract, they might be willing to take a chance on Don Imus. CBS could go either way on this deal, depending upon Bruce Gordon's influence.