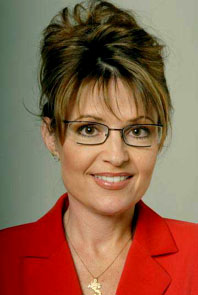 Just a short while ago (January 17th, 2007), Alaska Republican Governor Sarah Palin wrapped up her first State of the State address. Approximately 30 minutes long, she characterized the state of the state as "
strong and promising with challenges ahead
". Amongst the VIPs in attendance was former governor Bill Sheffield (the camera scrupulously avoided panning on him when Governor Palin started talking about ethics).
Photo courtesy of
nndb.com
.
Click
HERE
for the actual text of the speech.
Governor Palin began by paying tribute to Alaska troops serving in the military, asking for a moment of silence for those who had deployed to Iraq. She then discussed what her team intended to bring to state government - new ideas, new people and boundless energy. She maintained a tone of restrained optimism throughout her speech.
Governor Palin then outlined her four major initial goals: Ethics reform, financial responsibility, resource development, and education reform. She stressed the need to restore trust in government, promised to personally exemplify this effort, and alluded to an "ethics package" as the enabler. She also intends to fund an additional investigator for the Alaska Public Offices Commission (APOC) to better enforce any changes.
Governor Palin also reminded us of the volatility of oil prices, leading into a discussion of financial responsbility. Her three objectives in this area are fiscal prudence, saving for the future, and NO NEW TAXES. In fact, she wants to repeal nuisance taxes such as the tire tax and reduce licensing fees whenever possible. She wants to reduce spending by $150 million this year. She wants to deposit a one-time surplus of $1.8 billion into the Constitutional Budget Reserve to make up for previous legislative raids on this fund. And she wants to deposit another $1.3 billion into the Permanent Fund.
Governor Palin spent the bulk of her time discussing resource development. Throughout the entire discussion, she uttered the word "responsible" repeatedly, which should allay the concerns of environmentalists considerably. She wants to increase resourced development and provide regulatory stability, while beefing up oversight of North Slope and other pipeline operations to prevent a recurrence of the pipeline corrosion which halted operations last summer. She intends to assemble a state team to perform rigorous inspections.
The Governor expressed considerable frustration over high energy prices in the Bush while in such a resource-rich state, and she intends to task the Department of Natural Resouces to do a complete inventory of all potential energy sources accessible to the state, including alternatives such as wind, tidal, and geothermal energy.
She lambasted one of the big three (without naming the company) for attempting to "warehouse" the natural gas resources at Point Thomson, and emphatically proclaimed that energy companies will no longer be permitted to use leases to warehouse these potential resources. She promised that Alaska will receive appropriate value for its resources. She's also aware of emerging opposition to the
petroleum profits tax passed by the legislature last August
but wants to give it a chance before tinkering with it.
Governor Palin also lambasted the natural gas pipeline contract that Frank Murkowski had assembled, characterizing it as giving away a generation of tax, regulatory, and judicial soveriegnty in exchange for vague promises. She declared the Stranded Gas Development Act dead, and unveiled her proposed Alaska Gas Line Inducement Act. Its basic objectives are to induce construction on our terms, assure a transparent and competitive process, and jumpstarting with incentives. She will also seek permit streamlining and establish state training programs to enlarge the Alaskan workforce, so we don't have to import so many workers from Outside. The Governor also mentioned that she had discussed this issue with Vice-President Dick Cheney earlier, who assured her complete Administration support.
Finally, she addressed her intentions on education. But first, she briefly defined her vision of government. She said that government cannot make you happy, healthy, and productive, but can merely act as facilitator to help you achieve those goals. Education is the key, and she intends to fully fund K-12 education and increase contributions to the PERS/TERS retirement fund to hack away at the expected $10 billion liability so that school districts won't need to pay for so much of it themselves. The Governor also stressed the need for greater predictability and earlier decision-making so that school districts will know before the end of the year what cuts in staff might be necessary. However, Governor Palin wants to stress quality over quantity. Finally, she wants to place more emphasis on vo-tech education.
Governor Palin did not mention her proposal to restore the Longevity Bonus, although she did briefly expound upon expanding SeniorCare. She also made no reference to the controversial court decision to require the state to pay benefits to the same-sex partners of gay employees. Perhaps she felt it too divisive to address the latter issue in that particular venue, but she could have made a non-specific statement such as "
I will take the lead in fighting to preserve those traditional cultures and values that have worked successfully for 6,000 years of recorded human history
", or words to that effect to send a message that she was working the problem. She wouldn't have needed to mention the Alaska Supreme Court by name, or even utter the dreaded "g-word" (gay).
Several Fairbanks lawmakers do intend to make an issue of it during this legislative session
, whether she wants them to or not.
Overall, she made a helluva better speech than Frank the Bank ever did, and showed considerable poise. She gave me pretty much what I expected when I voted for her in November. I'd give her a letter grade of B+.
Tags:
politics
,
brrreeeport
,
Alaska
,
resource development
,
natural gas