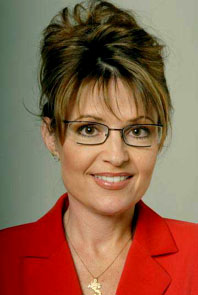 Special Note: Post updated 9:10 A.M. November 2nd to include reference to candidate debate that also took place on Dan Fagan's show
.
A new Rasmussen poll just released shows a virtual dead heat between Alaska's two leading gubernatorial candidates
Sarah Palin
(R) and
Tony Knowles
(D). The poll is so new that Rasmussen has not released it to the general public - it's available only to premium (paying) users of their site. As is their custom, they will probably release the entire result to the general public in a couple of days. However, the
Real Clear Politics site obtained the results
and posted them. Here are the numbers:
Sarah Palin (R) - 45%
Tony Knowles (D) - 44%
Undecided - 7%
The remaining 5% were probably spread amongst other candidates, most likely Independent Andrew Halcro, but no specifics were provided.
This result is much more in line with the
recent Craciun and Hellenthal polls
than the
latest Dittman poll
which showed Palin with a nine-point lead. While Dittman has an professional interest in providing accurate information, he was commissioned by the Palin campaign to conduct the poll, which unfortunately targets its credibility.
On his November 1st radio program,
KFQD's conservative radio talk show host Dan Fagan
(pictured at left, courtesy of
KTUU
) discussed three reasons why he believes Palin is losing her lead.
First, he believes Palin is not being specific enough; she answers too many questions with non-specific platitudes
. One example cited is her "truth and transparency in government" routine. She has failed to provide specific proposals as to how she will introduce more "truth and transparency" in government. I share this concern; at times, she sounds more like an airhead cheerleader like Katie Couric rather than a hard-headed stateswoman like Margaret Thatcher. She's got to start trafficking in specifics and to unleash her best weapon, running mate
Sean Parnell
, who has the statewide legislative experience to transform her platitudes into effective, concise specifics. However, the specifics must be achievable to be effective; don't promise "read my lips, no new taxes" a la George H. Bush in 1992, because you cannot safely predict how unexpected future contingencies might affect funding requirements.
Second, Fagan cites her perceived willingness to duck candidate forums
. However, he claims this is a false notion and cited a lengthy laundry list of two-a-day candidate forums she attended. Given disproportionate publicity was her no-show at one forum in order to attend the ceremonial deployment of an Iraq-bound Army unit at Fort Richardson (just north of Anchorage, for you Outsiders) in order to share this profoundly emotional moment with the troops and bond with them. One poster on Anchorage Daily News reporter Kyle Hopkins'
The Trail blog
unjustly accused her of no-showing the NAACP forum when in fact, she wasn't invited (why any white candidate would want to attend an NAACP forum to hear them whine about not enough entitlements and to be hectored and lectured about white "racism" is beyond me, LOL). I agree with Fagan, this has been overplayed and is merely a tempest in a teapot.
Finally, Fagan suggested that Palin has lost her outsider, or "maverick" status to Independent Andrew Halcro
. Many people voted for Palin in the primary not so much because they were pro-Palin, but because they were anti-Frank (Murkowski). At that time, Sarah Palin was perceived as an outsider with a track record of standing up to the Ruedrich-Harris wing of the Alaska Republican Party and Frank Murkowski. However, as the Republican nominee, she's now acquired an establishment "patina", and voters are looking for more than an "anti-Frank candidate".
Several callers to the program also stated that while they originally supported Palin, they were now shifting their support to
Andrew Halcro
. One caller believes that even if Tony Knowles is elected, his liberal excesses could be effectively checkmated by a Republican state legislature. I heard no Knowles supporters disclose their intentions to switch to Halcro, however. This leads me to believe that Halcro may end up taking more votes from Palin then from Knowles. This sets up a possible repeat of 1994, when Alaska Independence Party (AIP) candidate Jack Coghill took more votes from Republican Jim Campbell than from
Tony Knowles, who won that election by less than 1,000 votes
.
Later in the program, the two leading candidates Palin and Knowles appeared for an hour, engaged is sometimes testy debate, and took calls from the public. See a
KTUU news story
for more details of the specific issues discussed
.
However, with our state's economic future on the line because of an important natural gas pipeline on the table, the last thing we need is government gridlock. The legislature's efforts need to be directed towards crafting a secure future for Alaskans rather than constantly checkmating Tony Knowles. Consequently, it's up to us as Alaskan voters to do the job. A vote for Knowles will be a vote for no-growth and taxes. A vote for Halcro might seem a bit more palatable, except your kids won't get Permanent Fund Dividend checks because he thinks he knows better than you parents on how to spend your kids' money. And while Tony Knowles is at least openly and unashamedly pro-abortion, in response to an Alaska Family Council survey presented in their
new 2006 General Election Voter's Guide
,
Andrew Halcro responded with a letter containing an incredibly arrogant statement: "I would take issue with your assertion that these very narrow and self-serving issues that only seem to appear during election years are 'important to Alaska families'
".
While it's a virtual tossup, I have faith that Alaskan voters will reject a two-time failure, as well as an arrogant, imperious maverick whose contempt for ordinary people was unmasked by the Alaska Family Council. A vote for Sarah Palin will stop Tony Knowles and ensure the unity necessary for Alaskans to move forward with a minimum of bickering. Sarah Palin will win, but you might have to stay up late on November 7th to find out.
Tags:
politics
,
Alaska
,
brrreeeport
,
election
,
polls