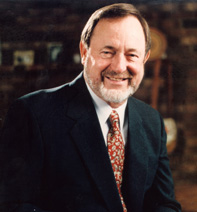 During an appearance at the Eagle River Chamber of Commerce on November 1st, 2006, Congressman
Don Young
(
pictured at left
), opined that it was time for the United States to begin withdrawing from Iraq. His Democratic opponent,
Diane Benson
, was also in attendance.
Full story aired on KTUU Channel 2 in Anchorage.
While there are very few issues on which Republican incumbent Don Young and Democratic challenger Diane Benson agree, the war in Iraq is one of those areas of agreement. Regarding Iraq, Young stated that the United States needs what he calls a planned slow withdraw of troops, even though he also expects it will lead to mass killings and civil war.
"
I think we're going to have a very large genocide of Shiites killing Sunnis, Sunnis killing Shiites, and when they're done killing one another, the Kurds killing both
," Young said. However, Young still insists that removing Saddam Hussein was worth it in order to avert what he calls "World War III".
Benson (
pictured at left
), says the war was a mistake from the start, and she says those who supported it should face the consequences. "
We lost 105 just in the month of October. Those numbers keep going up and they'll continue to go up. Those families are real people and those are real people, not just numbers
," Benson said. Benson has been personally affected by the war; her son lost parts of both legs as a result of being wounded in action in Iraq.
Congressman Young also reminded the audience of his other accomplishments on behalf of Alaska. "
Think about those things about the person that can and has delivered for you. No one's done more than I have for you
," he said. Young recently claimed that he funneled $1.5 billion in transportation money to the state. As Alaska's only member of the U.S. House of Representatives, his seniority is absolutely critical to Alaska's welfare; the most recent
Congressional Power Rankings posted on the Congress.org website
show he is the 22nd most influential member of the House (in the Senate, Ted Stevens is number 9, and Lisa Murkowski has risen to a surprising number 73 after just two years service).
Congressman Young has been strongly criticized for not making many campaign appearances in Alaska, despite the fact that his incumbency, which warrants his presence in Washington, would tend to limit his opportunities to personally campaign much more so than his opponents. His lack of appearances, combined with Diane Benson's strong appeal as a candidate, have enabled her to
close a once astronomical 30-point gap in the polls to a mere 9 points
. While I expect Congressman Young to be re-elected,
I previously predicted that it would not be a slam dunk
, and indeed it won't be.
Additional candidates in the race include Green candidate
Eva Ince
, Libertarian candidate Alexander Crawford (who, during his appearance on KAKM's "Running", urged voters to throw their support to Benson),
William Ratigan
of the "Impeach Now" movement, and write-in candidate
Patrick McGonegal
. None were reported to have attended the Chamber of Commerce event. Additional information on Ince and Crawford can be found in the Alaska Family Council's
2006 Alaska Voter's Guide
. Neither Young nor Benson chose to provide input for this guide, and McGonegal and Ratigan entered the race too late to be included.
Additional information on Young, Benson, and Ratigan can also be found in the
Division of Election's Official Election Guide
.
Tags:
politics
,
Alaska
,
brrreeeport
,
election
,
congress