If you restrict yourself to the mainstream media, you would get the impression that there are only three gubernatorial candidates in Alaska. Republican
Sarah Palin
, Democrat
Tony Knowles
, and Independent
Andrew Halcro
attract the lion's share of attention and garner almost all the publicity.
However, there are three other gubernatorial candidates on the ballot. In an
article published on October 19th, 2006, the Anchorage Press
discusses their candidacies. While the
Alaska Libertarian Party
chose William "Billy" Toien to be their standard-bearer and David Massie emerged as the Green Party candidate,
Alaska Independence Party
(AIP) voters chose Don Wright over Eddie Burke and Daniel DeNardo in the August 22nd primary election. To their credit, none of the three candidates say that they're in the race only to send a message; they actually believe they have a chance. However, Billy Toien believes that even if he doesn't win, he can at least expose some issues and help build a base for the future growth of the Libertarian Party.
Here are the most pertinent excerpts from the Anchorage Press article, along with my follow-up assessments: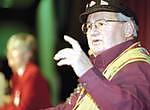 Don Wright (pictured at left, courtesy of Ourcampaigns.com) - A Fairbanks resident, Wright is certain he's the most qualified candidate to lead the state, but he's almost indifferent to whether he wins or not. "I make myself available to do the best job. If they don't want to elect me, that's OK. It doesn't bother me a bit," he said.

Wright said he's run for every office in the state, including several runs for governor, although he's never won any of them. He was president of the Alaska Federation of Natives, he said, and helped negotiate the Alaska Native Claims Settlement Act. As governor, Wright said he would focus on developing land and resources. He'd also get rid of politicians. "I'm sick and tired of politics," he said. "The party is not running for office - people are running for office."

Wright has little patience for reporters, he said, because they refuse to print the truth and "hide behind corporate pigs and corrupt bastards." When asked what the truth is, an exasperated Wright said, "Just do like the rest of them and forget it. Goodbye." Then he hung up the phone.
Comment:
How in hell AIP voters chose this guy over Eddie Burke is the mystery of the year. If you look at
Eddie Burke's website
, you'll see he had a real platform. In contrast, not only does Wright not have a website, but the AIP website does not even address his candidacy. This is a party clearly in hibernation, at a time when we need an alternative to the Republicrat duopoly.
His attitude towards the media is inexplicable and irrational. Even if the media is the "enemy", when running for office, you don NOT treat the media like the enemy. And while the national media acts like the enemy at times, the Alaska media generally behaves responsibly.
And the relationship between Don Wright and the AIP has been testy in the past. In 2002, the
AIP threatened to disavow Wright if he won because Wright refused to sign a copy of the party's platform
. Now, back to the Anchorage Press story.
David Massie (unable to locate downloadable photo) - Massie knew he wanted to run for office this year, but wasn't sure which one. He contemplated running for U.S. Representative Don Young's seat, but settled on governor when he realized, he said, that he "didn't want to go to D.C. anyways." He filed three minutes before the deadline.

His campaign has a what-the-heck tone. "It costs $100 to file so I said, 'I'll see what $100 will get me,'" he said. "I got 1.7 percent of the vote [in the primary], although I think people would have voted for a brick if it was Green."

Massie doesn't offer much of a platform. Prone to rambling tangents, he often loses the thread of his own points and asks where an anecdote started. A few points do emerge, however. Massie favors legalizing marijuana, he believes more cigarette tax money should be diverted to tobacco cessation programs (he hopes to quit smoking on November 8, he said), he would like to ease regulations to help small fishing operations, and he wants to prevent global warming. He also suggested using the Permanent Fund to build a gas pipeline.

The Green Party actually tried to have Massie removed from the ballot but failed.
Comment
: Also see Massie's
candidate profile in the Anchorage Daily News
. Then you'll understand better why the Green Party actually tried to have him removed from the ballot. He's clearly not ready for prime time. I also attempted to check out his
MySpace campaign website
, but his blog is set to "PRIVATE". What an idiot! Running for office and his campaign blog is set to PRIVATE! Now for the last excerpt from the story.
William "Billy" Toien - Toien is making his second run for Alaska governor. "I'm not a professional politician," he said. "I'm just an ordinary working citizen. We need to get regular working people in government."

Toien is running on a seven-point platform. Key points include pushing for an amendment that would allow jurors to vote their consciences, creating a state house of censor that would be empowered to void laws, limiting legislation to one piece of paper ("[legislation] doesn't need a pile of legal drafts, because that's when they can hide all kinds of crap in there," he said), and creating an independent auditing system.

Toien also supports using airships - zeppelins, actually - to transport tourists, cargo, and natural gas around the state. And he said he is opposed to all tenants [sic] of the Communist Manifesto. "I would like to give Alaskans their freedom back," he said.
Comment
: Toien is clearly the most solid candidate of the three. He presents himself quite articulately. Some parts of his platform are worth further consideration, in particular his idea that juries should be allowed to judge the law as well as the facts.
We have three ways to control our government - the ballot box, the jury box, and, if necessary, the cartridge box
. The better we employ the first two methods, the less likely it will be that we will need to employ the third alternative. However, the question Toien needs to consider is how far to we go with jury nullification? Do we limit it to merely allowing juries to acquit a "guilty" person because they think a law is bad, or do we also allow them to convict an "innocent" person because of a bad law? The latter situation would present a real problem.
His legislative ideas, commendable in intent, would seem to make lawmaking a bit more cumbersome. State house of censor empowered to void laws? I thought our judicial branch was already doing that???
His airship idea marginalizes his candidacy. Dirigibles to transport natural gas? Imagine how terrorists would react. Once they started firing Stingers at those blimps, you'd see some real "Northern Lights".
Those who are interested in more information about Billy Toien's political worldview can view his
response to Project Vote Smart's 2002 National Political Awareness Test (NPAT)
, to which he responded during his gubernatorial campaign at that time.
There is one other candidate in the gubernatorial race - Ted Gianoutsos. However, he is a write-in candidate and his name will not appear on the ballot. His campaign website, tedandfran.com, is currently experiencing problems as of this post time; if you click it, your computer will lock up and you'll have to restart Windows. Click
HERE
for an alternate source of information about Gianoutsos' campaign.
Regardless of the quality and viability of their campaigns, they all deserve kudos for showing the courage to seek elective office in the first place. Even David Massie, who apparently makes Thomas Mark Higgins look like John F. Kennedy.
Tags:
politics
,
Alaska
,
brrreeeport
,
election
,
libertarian