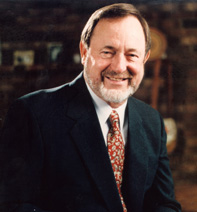 In response to the
Alliance for Marriage's
petition drive to defend traditional marriage, I signed their petition a while back. Click
HERE
to go directly to their petition page. On Monday September 25th, I received an e-mail response from Alaska Congressman Don Young (pictured at left) reaffirming his support for traditional marriage and highlighting his most significant legislative activity directed towards this goal. I reproduce his response here, without the salutory "bells and whistles" (although I've added emphasis to some pertinent points and hot-linked some of his references).
Date: Mon, 25 Sep 2006 15:38:58 -0400

Thank you for taking your time to express you views regarding the Marriage Protection Amendment. I appreciate your taking the time to contact me on this important matter.

As you may know, this resolution amends the Constitution to declare, "Marriage in the United States shall consist solely of the union of a man and a woman. Neither this Constitution, nor the constitution of any State, shall be construed to require that marriage or the legal incidents thereof be conferred upon any union other than the union of a man and a woman."

During the 104th Congress in 1996, I co-sponsored and voted for H.R. 3396, the Defense of Marriage Act (DOMA), which passed the House with overwhelming bi-partisan support and was later, signed into law by then President Clinton. It defines "marriage" as only a legal union between one man and one woman as husband and wife and "spouse" as only a person of the opposite sex who is a husband or wife.

On July 22nd, 2006, the House considered and passed H.R. 3313, the Marriage Protection Act, which reaffirms DOMA. I voted in favor of this bill, which also passed the House with bi-partisan support by a vote of 233-194. This bill would eliminate federal court jurisdiction over questions of interpretation of the Defense of Marriage Act (DOMA), eliminating any role for the courts in either enforcement of or challenges to the Act. The first part of DOMA clarifies that no state shall be obligated to recognize a same sex marriage authorized by another state. (Under Article IV, Section 1 of The United States Constitution, Congress is granted the right to legislate as to the effect of the Full Faith and Credit Clause - which is the premise for passing DOMA.)

The courts have yet to rule on DOMA, but the possibility exists that it may be ruled unconstitutional. My concern is that a state will be forced to recognize the laws of other states pertaining to marriages other than one man and one woman. Throughout my years in Congress I have fought to preserve states rights and for that reason I voted in favor of H. J. Res. 106, the Marriage Protection Act in the 108th Congress. Unfortunately, the amendment failed to gain the necessary two-thirds majority required for passage. As we move forward in the 109th Congress, I look forward to the forthcoming debate surrounding the proposed Constitutional Amendment.

Sincerely,
DON YOUNG
Congressman for All Alaska
Analysis
: This should reassure Alaskans that Congressman Young is a solid social conservative personally committed to the defense of traditional marriage and the restoration of an equal balance of power between the three branches of government. This means the judiciary interprets the law only - it does not usurp the legislative responsibility of creating the law.
And a federal approach is the only judicial-proof course of action. Crafting a more libertarian-oriented solution of allowing each state to develop its own definition of marriage would indeed invite judicial imposition upon other states under the Full Faith and Credit Clause. All it would take to wreck a "states rights" approach would be ONE activist judge. This explains why a U.S. constitutional amendment is necessary.
While most Alaskans believe Don Young will be handily re-elected, I'm not ready to break out the bubbly yet. Unlike previous elections, Congressman Young has a strong, educated, and articulate Democratic opponent in Diane Benson (pictured at left, courtesy of
her campaign website
). Benson is a long-time activist who previously ran for office as a Green Party candidate. The real question: Did Benson come back to the Democratic Party because she actually feels it's her real political home, or is she still a "Greenie" at heart, seeking a larger tent to pitch her politics? On the
Issues3 Page of her campaign website
, she puts forth the meat of her platform. She's strong on veterans' issues, and recommends a freeze on Congressional salaries until more Americans bring home a "living wage", but she opposes Right to Work laws, and talks about "sustainable" development, which is generally a euphemism for environmental extremism.
And while Benson does not explicitly come out in favor of "gay marriage", on the
Issues Page4 of her campaign website
, under the title "Defending Our Rights And Freedoms", Benson has this to say:
"
Reminder that Equal Rights are Human Rights. No group of people should be targeted for exclusion from the same rights and privileges enjoyed by other Americans
..."
This implies a questionable commitment to the sanctity of marriage. She's also
decried the failure of Congressman Young to show up at various town hall meetings
, etc. If she truly understood the job of a Member of Congress, she would know that an incumbent does not have the time to be jetting back and forth to attend every little nitnoid town meeting. Perhaps Congressman Young could second a substitute to represent him, but a substitute rarely evokes the same degree of interest as the principal. Besides, Congressman Young has already committed to appear on KAKM's "Running" before the November election. This is sufficient for now.
And while in
another
Alaska political race, "taking a stand" means
choosing a better vision
over
ineffective prior experience
, in this race, "taking a stand" means choosing effective experience over uncertainty. With a natural gas pipeline on the horizon, the continuing fight to open up ANWR for exploration and responsible development, the possibility of a Knik Arm Bridge to streamline traffic and to open up more land to make housing more affordable and better protect Anchorage's existing greenbelt from long-term encroachment, the need to open up a small part of ANWR for exploration and responsible development still unsatisfied, and Ted Stevens beginning to age visibly,
now is not the best time to change horses
in the U.S. House of Representatives. In addition, Don Young is the only member of our Congressional delegation who has sought to protect our borders; both Ted Stevens and Lisa Murkowski are notorious open borders advocates. Furthermore,
when Congress.org released their Congressional Power Rankings in May 2006
, they rated Don Young the fourth most powerful member of the House. Now how can Diane Benson compensate for that type of seniority? It's in Alaska's best interests to keep Don Young as Congressman for all Alaskans (except for
Ear
and a few others).
Click
HERE
to visit Don Young's official website.
Click
HERE
to view the grade given to Don Young on immigration issues from Americans for Better Immigration.
Click
HERE
to view Don Young's Interest Group Ratings from Vote-Smart.org
Click
HERE
to view Don Young's Voting Record from Vote-Smart.org
Tags:
politics
,
Alaska
,
brrreeeport
,
election
,
U.S. House
,
Diane Benson