I just discovered an
article
in the Christian Science Monitor dated July 25th, 2006, entitled "
How Pet Projects In Alaska Became Pet Peeve On Hill
". It seems somewhat skewed against development of the Knik Arm Bridge and Gravina Island Bridge, and received no local media coverage, so I though I'd address it. Excerpts posted below.
ANCHORAGE, ALASKA – Thomas Pease's flower-scented backyard might seem to be an odd place for a battle over federal spending. But the Government Hill neighborhood he calls home has become a front in the fight against pet projects in Congress (photo at left looking from Point Mackenzie southeast across the Knik Arm towards Downtown Anchorage, courtesy of the Christian Science Monitor).
That's because land just a block from Mr. Pease's home could be ripped apart if plans for a major bridge proceed. Officially, it's called the Knik Arm Crossing. But the US public knows it by a different name: the "bridge to nowhere." And ever since it drew headlines last fall, it's become a poster child for congressional earmarks.
Earmarks are items that lawmakers on Capitol Hill tuck into spending bills to fund projects back home. Supporters call it investment. Critics call it "pork." Both call it one of the biggest issues in American politics this year.
Actually, the "bridge to nowhere" refers to two bridges. One is the Knik Arm Crossing, which would connect Alaska's largest city with a little-used port on the other side of a glacier-fed channel that drains into the Pacific. The other is a span that would link Ketchikan, Alaska, to sparsely populated Gravina Island. They initially received earmarks of $231 million and $223 million in last year's transportation-funding bill.
The moniker resonated across the nation last fall and spurred a revolt - both in public and in the halls of Congress - against wasteful federal spending. "Those three words changed the view of millions of how we spend money on a federal level," says the man who coined the phrase, Keith Ashdown, vice president of
Taxpayers for Common Sense
, a Washington watchdog group.
Even in Alaska, which leads the nation in per-capita pork-barrel spending, locals were divided over the merits of the projects. In a December survey of Anchorage residents by pollster Ivan Moore, 46 percent opposed the Knik Arm Crossing, while 44 percent favored it. When told that the earmark was removed and that the state could spend the money on any transportation project, a stronger majority - 56 percent - wanted to use the money elsewhere. "It's obviously not a high priority," Mr. Moore says.
Supporters defend the bridge as economically vital to Anchorage and the Matanuska-Susitna Borough, the fastest-growing district in Alaska. Alaska has as much right to a large bridge as any other state, they say. "
The Golden Gate was a bridge to nowhere. Mackinac back in Michigan was a bridge to nowhere
,'" says former Anchorage Mayor George Wuerch (
pictured at left in the pink shirt
), chairman of the state-funded
Knik Arm Bridge and Toll Authority
(KABATA), the organization overseeing bridge plans. "
This is not a bridge to nowhere. These are the two fastest-growing populations of this state
."
Alaska's veteran Sen. Ted Stevens (R), a legend for his ability to funnel federal funds home, has argued that critics fail to grasp the bridge's historic mission. "What they forget was that in the Western movement of the country, if the people who were paying the taxes at that time said it was wasteful to build roads to the West we would have never had the West," he told Anchorage reporters last year, as criticism of the bridges peaked.
Proponents, who hope the Knik Arm Crossing will be built by 2010,
say it will open up new, lower-cost land needed for development.
Already, speculators have started buying property on the other side of Knik Arm, where the bridge is expected to deliver traffic.
But skeptics here say the project would promote sprawl and, with a cost estimate of between $600 million and $2 billion, it would divert resources from revitalizing Anchorage itself. Routing traffic to this spot in the Matanuska-Susitna Borough is impractical, they add, because it's not near population centers. Critics also worry about the effect on beluga whales and other wildlife.
In Government Hill, Anchorage's oldest neighborhood, the bridge debate is about more than budgets. Locals fear the planned access road for the bridge would ruin the quality of life, bringing traffic, congestion, and general degradation. "
At the risk of sounding like a radical, there's something undemocratic about having to defend your home from the government
," Pease says.
In a city dominated by cookie-cutter condos and sprawling McMansion subdivisions, Government Hill is a throwback. Architectural masterpieces mix with refurbished Quonset huts and old-fashioned cabins. Its location on a bluff above downtown Anchorage gives it a microclimate warm enough for local gardeners such as Pease to grow apples, cherries, and other delicacies rarely found in Alaska.
The social atmosphere is also warm. Government Hill denizens were invited recently to a celebratory picnic thrown by a pair of newlyweds and, Pease says, residents are known to barter garden produce for salmon."
It's one of the few neighborhoods in Anchorage that has a real neighborhood feel to it,
" says Stephanie Kesler, president of the
Government Hill Community Council.
The proposed Gravina Island bridge is the other "bridge to nowhere". Like the Knik Arm project, the Gravina Island bridge has generated opposition from locals on more than fiscal grounds.
The bridge would link Ketchikan, population 7,700, to the island that holds the local airport and about 50 residents, now served by a ferry (there are six ferry crossings between the airport and the city daily, and flight arrivals are correlated with ferry crossing times). It would be nearly as long as California's Golden Gate Bridge and tall enough to allow large cruise ships to pass beneath.
Critics claim it would also open wild Gravina Island to timber cutting and other ecologically damaging development. They describe it as a multimillion-dollar logging road. That doesn't faze proponents, who cite the need for resource development.
In response to withering public scorn, Congress stripped the earmarks for the bridges. But lawmakers gave Alaska the money for general transportation spending. Despite expressing misgivings, the state legislature allocated about $93 million from federal grants for the Knik Arm Bridge and about $91 million for the Gravina Bridge in this year's capital budget.
"I can't think of any bridge anywhere in the country that doesn't have a combination of both commercial as well as private uses," said Gov. Frank Murkowski (R) last month after signing a capital budget that includes money for both bridges.
But a
bill pending in Congress would prevent the state from spending those
or any future federal dollars on either project. And the national embarrassment the bridges have caused the state may have sapped some political will to proceed. Bottom line: It's not clear whether either project will be completed.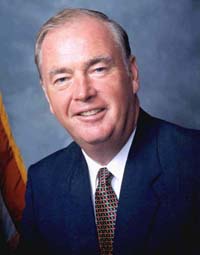 To secure other funding sources, the Knik Arm Bridge and Toll Authority has new power to sell revenue bonds, thanks to separate legislation signed into law by Governor Murkowski (
pictured at left courtesy of
Nndb.com
). Skeptics say the authority's cost estimate of $600 million will be sorely tested.
The bridge also faces regulatory and permitting hurdles. Government agencies are currently drafting the requisite environmental studies. The US Army Corps of Engineers has already blasted preliminary environmental studies as woefully inadequate. That is, in large part, because there has been an unsatisfactory justification for building the project at all, according to the Corps' critique.
Despite the backlash, bridge backers remain optimistic. On a sunny day last month (June 2006) at the public dock on the Anchorage side of Knik Arm, where
he held a ceremony to sign the revenue-bond
bill, Murkowski predicted that when Alaskans start driving over the bridge they will wonder how they ever managed without it.
"
And people will say, 'Why didn't they make a four-lane or a six-lane out of it?'
" said Murkowski, as fighter jets from nearby Elmendorf Air Force Base and a bald eagle flew overhead. "
The critics will say, 25 years from now, 'Why didn't you widen it?'
"
Analysis
: First, if we have to choose between the bridges right now, we can. The Gravina Island Bridge, while clearly a useful project, is not as critical as the Knik Arm Bridge and can be deferred if necessary to better assure approval and construction of the Knik Arm Bridge.
The concerns of Government Hill residents are valid. Continuous traffic noise of a major traffic artery near their homes would flatten rising property values at the very least and make selling a home more difficult (but in Anchorage's hot housing market, not impossible). An alternative route not displayed on the route map posted above would solve this problem. This alternate route would direct southbound bridge traffic north of Anchorage and the two military installations to a junction near the Hiland Road Eagle River exit. This would completely spare the Government Hill neighborhood, although it would not service the Port of Anchorage very well.
The concern about "sprawl" is misplaced. The Knik Arm Bridge would actually serve to prevent further sprawl within the Anchorage Bowl itself. According to municipal land use planners, 90% of the developable land within Anchorage has already been developed. The new Title 21 actually promotes vertical rather than horizontal development in the city from Tudor Road northwards. Further development within the Anchorage Bowl might encroach on our greenbelt, particularly Far North Bicentennial Park. Merely taking a small slice out of Bicentennial Park for the new Simonian Little League Ballfields provoked a firestorm of controversy. Two Assembly Members, Doug Van Etten and Dick Tremaine, were opposed to this development; both lost their jobs at the ballot box.
Concern about future traffic congestion on the existing Glenn Highway is very real. According to
traffic studies posted on the KABATA website
, the Glenn Highway supports over 50,000 vehicles per day just between Anchorage and Eagle River alone, and an additional 22,000 vehicles between Anchorage and the Mat-Su Valley. With no bridge, it's estimated the Glenn Highway will reach saturation in 13 years. The Knik Arm Bridge and the corresponding west side highway will divert a projected 30,000 vehicles, including most commercial and truck traffic, from the Glenn Highway and keep the Glenn Highway under capacity until 2050.
Ivan Moore's poll, reflecting a slight plurality opposing the bridge, requires further explanation. A good chunk of the opposition most likely came from Government Hill residents, who have valid concerns. Choosing the Eagle River route could allay those concerns and eliminate that pocket of opposition. Another chunk of opposition is probably from environmental extremists; their extremism marginalizes them as emotional opposition rather than rational opposition in advance, and so they can be discounted.
However, another segment of opposition is provided by homeowners who believe residential development in the Point Mackenzie area will cause their property values to go down. This group of people oppose the bridge for egregiously selfish reasons.
Since when does government have a responsibility to guarantee rising property values? Your property value is your responsibility alone.
Oh, I get it, because the money honeys on CNBC told you buying a house was an investment, you decided your house is to be your personal ATM rather than a home. Here's the problem with that attitude. By contracting the supply and increasing the price of single-family homes, you are placing home ownership beyond the reach of a growing segment of the American population. And it's this investor greed that's permeating all aspects of American society and widening the gap between rich and poor in America to astronomical proportions. The Bush Administration openly and flagrantly esteems parasitical unearned income over earned income. Congress follows suit - they just passed a bill increasing the minimum wage, accompanied by yet another gratuitous tax cut for the rich - the elimination of the estate tax.
And then you've got KFQD's conservative shock jock Dan Fagan trying to hysterically browbeat the State Legislature into accepting a natural gas pipeline contract sight unseen, without the thoughtful, comprehensive, and, yes,
time-consuming inquiry necessary to make sure it is a good deal for ALASKA as well as the producers
. Anyone who disagrees with Fagan on this issue, like
Eric Croft
, is hysterically denounced as a socialist. We've got to stop this overt pandering to the rich.
The smartest course of action for our Alaska congressional delegation is to offer to defer the Gravina Island Bridge indefinitely in exchange for funding guarantees for the Knik Arm Bridge. To allay the concerns of Government Hill residents, link up the southern bridge terminus to Eagle River rather than Government Hill.
Tags:
politics
,
Alaska
,
Anchorage
,
brrreeeport
,
economics