On Monday July 24th, 2006, Alaska lawmakers return to Juneau to take up two of the biggest issues since statehood -- a new oil tax and issues related to a natural gas pipeline. To complicate matters, they're doing it within a month of one of the most hotly contested primary elections in at least 20 years. Click
here
for report from KTUU Channel 2 in Anchorage.
The oil tax comes first, and it's already hard to extricate the policy from the politics. As
Tony Knowles
, Democratic candidate for governor said, "
As far as I'm concerned the oil tax, to me, should be a very simple -- there's less there than meets the eye in the controversy that we see today over PPT
[petroleum profits tax]".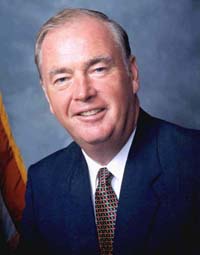 However, Governor
Frank Murkowski
(pictured at left) retorted, "
This is just another effort to divert people's attention to something that a lot of people, they don't really understand and those that do, say, hey, this is a normal way of doing business
".
Murkowski has called the Legislature into its second special session this summer to overhaul the state's oil production tax and to change other laws to accommodate his proposed fiscal contract for a natural gas pipeline. The session starts just over four weeks before Murkowski faces a serious challenge in the Republican primary from
John Binkley
and
Sarah Palin
, and with former Gov. Tony Knowles, the leading Democratic candidate.
Reps. Ralph Samuels and Les Gara, D-Anchorage, are working on different approaches to break the Legislature's logjam over the petroleum profits tax proposed by Murkowski to provide fiscal stability for North Slope producers. Samuels wants to revise the governor's proposal.
"
You start out with a rate, and the more you spend money in Alaska, on Alaskans, you can buy your rate down, like you buy points on a mortgage down there, for one year, and the next year, if you don't invest, your rate starts back up again; you start all over again
," Samuels explained.
But Gara (pictured at left) wants an entirely different approach, taxing on the gross value of oil rather than company profits, and splitting the revenue evenly between the state and the producers. "
Imagine that: an equal share for a resource that we own
," he said. "
The oil companies will cry like stuck pigs, of course, but can they cry about a 40 percent profit margin, a 35 percent profit margin
?"
Gara also notes that every major gubernatorial candidate except Murkowski favors a tax on the gross
. But legislators also have to consider their individual races to consider, including constituent input and reaction, and their own long-term view of what's best for the state.
Samuels (pictured at left) says his plan is to start with a 25 percent rate on profits and establish a sliding scale for capital investments that could bring the tax down to 20 percent, the number Murkowski negotiated with the producers
.
Gara wants a minimum 5 percent gross tax on all oilfields, but the number would be adjusted progressively, so that the state and the producers shared the pain during low prices and the wealth during high prices
.
Although the governor said he wanted a final up or down vote on the contract by the end of the special session, Samuels says that's not going to be a reality before the August 22 primary election.
An interesting note is that the first order of business when the special session resumes is a house judiciary committee hearing on a proposed constitutional amendment that would require legislative ratification of the contract. Some lawyers for the legislature have said that the legislature's approval of the contract might not be needed, and Murkowski has refused to say whether or not he would execute the contract even if lawmakers said no.
Analysis
: While a petroleum profits tax continues to hold sway, the concern over the potential of producers to manipulate profit reports to reduce their fiscal obligation is creating a groundswell of support for a gross production tax. And with so many prominent gubernatorial candidates supporting this idea,
I think it's quite possible that the legislature will ultimately adopt a revised production tax instead of a profits tax
.
Rep. Samuels is right about the contract. There are too many complications to get and up-or-down vote from the legislature by August 22nd. These complications are addressed in my
post
about Rep. Bob Lynn's constituent survey. The insurmountable hurdle may be the proposed 30-year and 45-year tax freezes on oil and gas, respectively. Not only is public opinion strongly against it, but it's considered constitutionally questionable, particularly by people like
Jack Coghill
, who helped draft the state constitution.
Tags:
politics
,
brrreeeport
,
taxes
,
Alaska
,
oil
,
gas