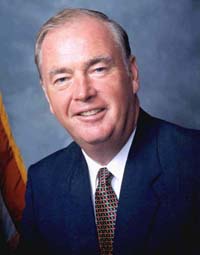 Today (June 13th), Alaska Governor Frank Murkowski (
pictured at left, courtesy of
Nndb.com
) signed legislation permitting the Knik Arm Bridge And Toll Authority to issue up to $500 million in revenue bonds for the proposed Knik Arm Bridge to link Downtown Anchorage with Point Mackenzie just across the Knik Arm. Full story originally reported on KTUU Channel 2 in Anchorage (
link to story no longer available
).
Murkowski signed the legislation at Anchorage's small boat harbor. He called it an important step for a project that will promote development in Anchorage and across the arm. "
We think it is in the appropriate growth of a major project that is going to sustain the tremendous potential of the Railbelt area and, particularly, Anchorage and Point Mackenzie,
" said Murkowski.
The Knik Arm Bridge and Toll Authority can now seek financing through revenue bonds, up to $500 million, and it can partner with private industry. The cost of the bridge is now estimated at close to $600 million, with $93 million coming from the federal government. It's not as much as the toll authority had hoped.
"In our case, the net result is our down payment has shrunk to $100 million and our mortgage is going to be about $500 million. We believe after consulting with our financial analysts and a number of bankers and investors that that's still doable
," said George Wuerch (pictured above left in the pink shirt), former Anchorage Mayor from 2002-2005 and current chairman of the
Knik Arm Bridge and Toll Authority
(KABATA).
But groups like the
Alaska Public Interest Research Group
(AkPIRG) question just how doable it is. It's a project it sees as unnecessary and a drain on public resources. "
To us it seems less feasible now just the economics of the project just don't add up now they need to raise even more money through private sources and what we're continually worried about is that the state's going to be left holding the bag
," said Steve Cleary, AkPIRG spokesman.
AkPIRG also says the bridge's price tag figures are not taking into account the dramatic rise in the cost of materials.
George Wuerch disputes that and says if revenue bonds are sold, the state will not be on the hook if the project sours
. "
This legislation makes it absolutely clear, legally and morally, that there is no recourse to the state, the state's assets or to the taxpayers from the sale of bonds for the bridge
," said Wuerch.
But even with the new ability to raise funding, getting from here to over there remains a challenging prospect. The Knik Arm Bridge still needs the required permits and that process has to wait until the Federal Highway Administration completes its environmental impact statement.
Commentary
: I could not find a map to cut and paste in here, so I'll paint a verbal picture. Point Mackenzie is just across the Knik Arm from Downtown Anchorage. Few people live in that area because to currently get from Point Mackenzie to Anchorage, one must drive 15 miles NE to Wasilla, 5 miles E to the Palmer cut-off, then 35 miles SW on the Glenn Highway to Anchorage, for a total of 55 miles. The Knik Arm Bridge would cut that down to a 5 mile drive.
Because of high demand and low land supply, housing in Anchorage is becoming scarce and less affordable. The bridge would effectively open up Point Mackenzie land for new development, increasing the housing supply, stabilizing prices, and protecting existing Anchorage greenbelt against further encroachment. It's a win-win situation. So this "Bridge to Nowhere" will turn "nowhere" into "somewhere".
Technorati Tags:
politics
,
Alaska
,
Anchorage
,
brrreeeport