On Wednesday, the first day of the Alaska State Legislature's special session, Governor Frank Murkowski unveiled the proposed gas pipeline contract. This post combines the high points of five different reports from
KTUU
Channel 2 in Anchorage during the past two days:
1.
Alaska lawmakers examine gas pipeline contract
(May 10th)
2.
State officials express mixed reaction to gas pipeline contract
(May 10th)
3.
Sifting through gas pipeline contract harder than it looks
(May 10th)
4.
Focus on gas contract means break from PPT
(May 11th)
5.
Citizen's initiative on gas tax could be overturned
(May 11th)
After deciding earlier this week not to pass the proposed petroleum profits tax (PPT), lawmakers on Wednesday began studying the proposed gas pipeline contract. The document turned out to be a draft proposal rather than a final product.
State Senator Hollis French expressed some reservations. He said the word "may" appears too many times. This makes the contract appear too tentative and open-ended in favor of the producers. A former head of Alaska's Division of Oil & Gas, Mark Myers, was more bluntly pessimistic. He warned lawmakers not to sign the proposed contract as presently written. His primary complaint is that there is no construction date specified. He said it's like asking a contractor to build a condo but telling the contractor "Build it when you want to". However, Roger Marks of the Alaska Department of Revenue defended the ambiguity by citing the need for flexiblity for the state should gas prices suddenly drop.
And reviewing the contract is not for the faint at heart. The basic document alone is 352 pages, and there are hundreds of pages of additional supporting documentation from the producers and affected state agencies. Click
here
to access the contract and other documentation. Lawmakers will also be taking public testimony from time to time during the next 45 days.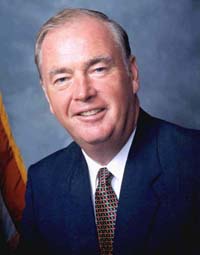 And while Governor Murkowski (
photo at left courtesy of
nndb.com
) is currently willing to defer work on PPT during this session, he knows that the producers will not sign a gasline contract without knowing what percentage of profits they will be paying as tax. Consequently, the Governor may call a second special session later this year to resurrect PPT. Another complication is the proposed $1 billion per year gas reserves tax initiative to be on the November ballot. If it passes, the state might have to reimburse the oil companies under the provisions of this gasline contract.
In his Wednesday speech, the governor said over the 35-year life of the project, it would bring in from $12.5 billion to $78 billion, based on a range of gas prices. But a press release Wednesday afternoon cited potential revenues of $26.5 billion to $129 billion, at the same prices -- a staggering $51 billion discrepancy on the high side.