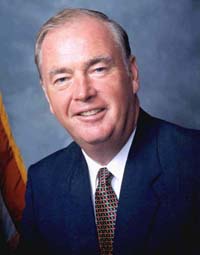 On Friday May 26th, America's
second least popular governor
, with a current approval rating of 23%, announced his intention to seek re-election. At a press conference in Fairbanks, Frank Murkowski (pictured at left) officially threw his hat in the ring. Click
here
for the full story from the Anchorage Daily News and
here
for KTUU's report.
Governor Murkowski will be joining an increasingly crowded Republican field not only including former Wasilla Mayor Sarah Palin, but also Fairbanks resident and former State Senator John Binkley. Lt. Gov Loren Leman has yet to announce his intentions, but is rumoured to be considering a run for the Republican gubernatorial nomination also. June 1st is the filing deadline, and August 22nd is the scheduled date for the Republican primary.
This decision may generate some fallout on the Democratic side. Former two-term governor Tony Knowles has stated in the past that if Murkowski was to run for re-election, he (Knowles) would consider seeking the Democratic nomination. This complicates matters for Democratic front-runners
Ethan Berkowitz
and
Eric Croft
, both of who are members of the State House and who both retain the option to switch their campaigns to run for re-election to their respective House seats instead. This could potentially impact Democrat Mike Doogan, who's running for Croft's seat in House District 25. Knowles can seek election because the Alaska State Constitution merely bars more than two
consecutive
terms; a governor can serve two consecutive terms, stand down for one term, then serve again.
It also complicates matters for the current Republican challengers. Do
Sarah Palin
and
John Binkley
continue to run for governor, or do they exercise their options to switch their campaigns to run for lieutenant governor instead? If they exercise the latter option, what does that do for the current Republican lieutenant governor candidates
Sean Parnell
and
Troy Maulden
. Maulden has a real chance against Parnell, but against Palin and Binkley? No, because the establishment, particularly KFQD's conservative shock-jock Dan Fagan, marginalizes him too much.
Both Binkley and Palin announce their intentions to continue. Binkley considers Murkowski's candidacy to be good news.
"He (Murkowski) does not have the trust of the Alaskan people. There are substantial problems with the existing agreement that he brings forward. The notion that this should be locked in for 45 years is not right,"
said Binkley. He further stated that the phone has been "ringing off the hook" at his campaign headquarters.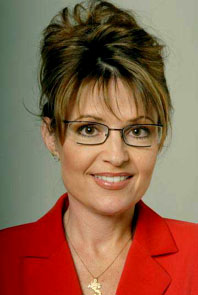 Sarah Palin (pictured at left) says that the three-way dynamic with Murkowski and Binkley helps her.
"My difference with Binkley is look at his support base also -- much of that is Murkowski's support base. And you just have to consider there, too, will there be a split in that base as the campaign goes on? Will loyalties kind of have to be weighed by these individuals as to who they will stay with through the campaign? My base of support is the more independent Alaskans, the more independent Republicans within our closed primary,"
said Palin.
At the press conference announcing his decision, Governor Murkowski defended his record. "
We're cutting down the meth labs and jailing the bootleggers and the drug dealers,
" he told reporters. He said his administration added more troopers and increased school funding, while making prescription drugs more available for seniors. In addition, the highly complex and controversial gas pipeline contract is beginning to take shape, and oil tax reform is in the works. Governor Murkowski believes he's the best one to see the gas pipeline contract through to a successful conclusion. On the other hand, Governor Murkowski's 23% popularity rating is down from the 29% reported by
SurveyUSA
on March 21st, which identified him as the second least popular governor in the U.S. His premature termination of the Longevity Bonus, the difficulties encountered by former Attorney General Gregg Renkes (somewhat blown out of proportion by KTUU and ADN), and his choice of a more expensive jet aircraft from someone in Las Vegas over a less expensive, equally serviceable jet from another Alaskan have helped drive his ratings down. Also, by waiting so long, the Governor will have to raise a bunch of money within a very short period of time, while some of the others have considerable war chests.
If Frank Murkowski really wanted to run, he should have announced earlier, before so many other candidates for both Governor and Lieutenant Governor entered into the races based upon the possibility that Murkowski might not run. It is unfair to the emerging crop of future political leaders that they have not only one retread to compete against, but the possibility of another retread in Tony Knowles. Sarah Palin, John Binkley,
Andrew Halcro
, Ethan Berkowitz, and Eric Croft have proven themselves at various levels of elective office and represent the political cream of the next generation. They deserve to duke it out without having to contend with a couple of retreads.
I will not support Frank Murkowski primarily because he waited too long to announce and his track record is not impressive enough to override that failure.