In the wake of the growing cyber-firestorm over the revelation that the Border Patrol is tipping off the Mexican government to the disposition of Minuteman patrols, the Border Patrol issued the following
statement
, reported on the
Phxnews.com website
this morning:
Title: Inland Valley Daily Bulletin Inaccurate
Date: 05/09/2006
Statement

Today's report by the Inland Valley Daily
Bulletin, "U.S. tipping Mexico to Minuteman patrols," is
inaccurate. Border Patrol does not report activity by civilian, non-law
enforcement groups to the Government of Mexico. During a detention of a legal or
illegal immigrant that produces an allegation of improper treatment, Border
Patrol reports the allegation and allows the appropriate consulate to interview
the individual in custody.
This is consistent with the Vienna Convention on
Consular Relations of 1963 that provides consular access to foreign nationals
being detained by a foreign government. This is the same agreement that protects
United States citizens when they travel to foreign countries.
U.S. Customs
and Border Protection's Border Patrol continues to appreciate the efforts of
civilians who contact law enforcement authorities regarding suspicious activity.
U.S. Customs and Border Protection is the unified border agency within the
Department of Homeland Security charged with the management, control and
protection of our nation's borders at and between the official ports of entry.
CBP is charged with keeping terrorists and terrorist weapons out of the country
while enforcing hundreds of U.S. laws.
END OF STATEMENT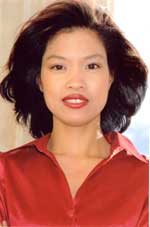 However, columnist
Michelle Malkin
(pictured at left) considers this statement disingenuous. In a post entitled "
DHS: Deny, Hedge, Spin
", Malkin claims the reference to the Vienna Convention is a "red herring". She further states that Border Patrol spokesman Mario Martinez unequivocally confirmed the notification process in the original interview as follows:
"A U.S. Customs and Border Protection spokesman confirmed the notification
process, describing it as a standard procedure meant to reassure the Mexican
government that migrants' rights are being observed.
'It's not a secret
where the Minuteman volunteers are going to be,' Mario Martinez said Monday.
'This ... simply makes two basic statements -- that we will not allow any
lawlessness of any type, and that if an alien is encountered by a Minuteman or
arrested by the Minuteman, then we will allow that government to interview the
person'."
Malkin further states the Mexican government also confirmed it on the Secretary of Foreign Relations website:
"The General Consulate of Mexico in Phoenix has stayed in contact with the
Border Patrol to ratify the request of being notified in case that some
volunteer stops undocumented people, as well as the request to interview the
immigrants while they are under safekeeping of the Border Patrol".
In another post entitled "
Homeland Insecurity Bulletin
", Michelle Malkin cites a column by the National Review's Andrew McCarthy. I reproduce an excerpt from it below:
"The DHS statement is noteworthy in two respects. First, while attempting to
discredit the report about providing Mexico with intelligence, it does not
clearly deny transmitting information about Minuteman patrols—something the CPB
spokesman previously conceded quite matter-of-factly (saying, "It's not a secret
where the Minuteman volunteers are going to be").
DHS instead says it
"reports the allegation" if "improper treatment" is alleged. But we are not told
what DHS considers "improper treatment" (e.g., does it consider patrols by the
Minutemen—whom the President has labeled as "vigilantes"—to be improper?). Nor
are we told how comprehensively DHS "reports" the matter to Mexico (e.g., does
it simply notify Mexico that an arrest has been made, or does it convey an
expansive summary of the case?).
Second, DHS seems to be saying that it was
compelled to disclose whatever information it may have given to Mexico by the
1963 Vienna Convention on Consular Relations, which President Nixon ratified in
1969.
This latter claim bears scrutiny. The consular-notification
convention, and in particular its Article 36, comes into play whenever an
alien—legal or illegal—is arrested in the United States. It absolutely does not
require U.S. authorities to provide any investigative information or other
intelligence to foreign governments. Indeed, it does not necessarily require our
government to give a foreign government any information whatsoever.
On the
contrary, it provides that when a foreign national is detained, he has a right
to have his nation's consulate in the United States informed of the fact of the
arrest. If he does not want his nation so advised, the U.S. is under no
obligation to provide notice.
If the detainee does assert his
consular-notification rights, the U.S. must advise the consulate of the fact of
the arrest, pass along any communications the detainee addresses to his
consulate, and allow representatives of the consulate to visit with the
detainee".

Furthermore, Daily Bulletin reporter Sara Carter, in an e-mail to Michelle Malkin, not only stands by her story, but also disclosed that Mario Martinez reiterated his previous remarks on a San Diego radio talk show this morning.
In the interim, Bill White, the editor of
Libertarian Socialist News
, has weighed in with a unique but important perspective. In
today's post
, White states the following:
"The Minutemen are a group being stage managed by elements within the
Republican Party to draw attention to the immigration issue. It misdirects the
energy of white people who want to fight against immigration by taking their
anger and placing it into channels that do not question or threaten the nature
of the system itself."

White has criticized the Minutemen in the past for refusing to recognize race as a variable within the immigration equation. And he may have a point. While the Minutemen have literally bent over backwards to disavow any connection with race or racialists, this has not shielded them from criticism by anti-racist fanatics like
Nicole Nichols
of
Citizens Against Hate
or Daryle Jenkins of
One Peoples Project
, who refer to them as "Minuteklan". And if you go to the
Earth Resource Systems website
, and punch up ethnic maps of nearly every major Eastern or Southern U.S. city, you will find a non-white inner city surrounded by predominantly white suburbs. So don't tell me that race doesn't matter. We profess diversity with our lips to perserve employability and social standing, but our hearts (and our residences) are far from it.
Analysis:
The Border Patrol is engaged in Talmudic-style hair-splitting. While it is true that Border Patrol agents
do not directly disclose
Minuteman deployments to Mexican officials, the fact is that when apprehended illegals are interviewed by Mexican officials, the information is
indirectly
disclosed when
the illegal gives a full account of the apprehension to the official, to include the involvement and location of Minuteman patrols
. Any Mexican officials who are corrupt then have the opportunity to provide that information to "coyotes" trying to smuggle people across the border. This is just another example of a government agency hiding behind semantics, refusing to take responsibility for a problem, and failing to be accountable to the people who pay their salaries - namely, us.