Special Note: Post updated August 10th to replace superseded graphic link (the replacement graphic pictured at left).
In response to sustained high oil prices, the Governor and both houses of the State Legislature have presented competing proposals for a new petroleum profits tax. I will present the basics of each proposal side by side. Much of the background information comes from the
Alaska Journal of Commerce, March 26th, 2006
. The graph on the left is from the
Alaska Oil & Gas Association (AOGA)
website.
Frank Murkowski's Proposal
: A state production tax of 20% of net production income. Allows operating and capital expenses to be deducted from gross revenue based on sales income minus tanker and transportation costs (the current production tax is based simply on gross revenues without deduction of transportation costs).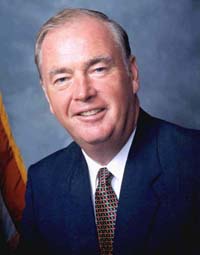 Permits a 20% credit on investment exploration. Unlike the two legislative versions, there is no windfall threshold.
According to ConocoPhillips, estimated tax increase from this proposal would be $1 billion per year.
Photo of Governor Murkowski above courtesy of
nndb.com
.
House Version
(HB488):
Takes the Governor's proposal and inserts two "windfall" thresholds of $50 per barrel for West Texas oil or $48 per barrel for North Slope crude oil. The 20% basic tax would rise dollar for dollar when prices exceeds those thresholds. For example, at $60 per barrel, the effective rate would be 23%. According to ConocoPhillips, this would add around $800,000 of additional tax revenue to the Governor's proposal, leading to an
overall estimated tax increase of $1.8 billion per year.Senate Version
(SB305):
Takes the Governor's proposal, raises the proposed baseline production tax from 20% to 25%, and begins a "windfall" threshold at $40 per barrel. This is the most "progressive" proposal.
Industry reaction has been mixed.
KTUU reports
that
Dowland-Bach
favors the Governor's proposal as is and wants no changes to it. The Anchorage Chamber of Commerce wants the Cook Inlet fields exempted altogether because they provide so much of the state's natural gas, and based on earlier reports from
Enstar
that the Cook Inlet gas fields may run dry during the next decade, they're concerned that any profits tax might discourage additional exploration or secondary recovery efforts. And of course, during the past week, the industry has unleashed a barrage of ads in the Anchorage Daily News discouraging people from supporting the more radical legislative proposals. There were five huge ads in Sunday's Anchorage Daily News (April 9th) alone. One ad from
ConocoPhillips
(page A-7) supports the
Governor's proposal
. They do not support a windfall profits tax, and are concerned about possible retroactivity (which I would not support). An ad from the
Alaska Support Industry Alliance
(page A-11) implicitly supports the Governor's proposal. They want a tax plan that promotes long-term economic growth over short-term state government revenues. An ad from the
Alaska Oil and Gas Association
(AOGA, page A-12) reluctantly supports the Governor's proposal, urging opposition to the proposed legislative changes. An ad from British Petroleum (page B-3) doesn't single out any of the three proposals, but simply lobbies for a balanced tax environment which secures investment, grows production, and maximizes revenue for the state. And finally, an ad by Alaska's Future (page B-6) appears to oppose any new taxes but singles out the Legislature for criticism.
My Personal Take
: The original arrangement was justified when oil prices fluctuated. As Representative Vic Kohring (R-Wasilla) once put it, the oil companies paid less tax than normal when prices were high and shared the losses when prices were low. It was a symbiotic relationship. However, prices have now gone up and stayed up, which means a windfall profits situation is bound to develop.
Exxon
reported an astronomical
$36.1 billion in net profits last year,
up $11 billion from 2004.
ConocoPhillips
reported $13.5 billion in net profits last year, up $5 billion from 2004. These guys ain't sleeping at the Brother Francis Shelter anytime soon. This change requires new rules of engagement. Furthermore, oil cannot be judged by the same standards as other resources, because of one word:
RENEWABILITY
. Timber and fisheries
are renewable
, oil and gas
are not renewable
. Once they're gone, that's it. This means energy companies incur a greater financial responsibility simply to help us cope with the projected permanent loss of these resources in the future, so that when they run out, we'll have more to show from it than just a big bank account. We'll have more infrastructure such as roads, bridges, schools, etc.
Consequently, despite the complexity of this issue, if I had to make a decision now, I would accept the State Senate's proposal, but I would put back in the Governor's proposed 20% credit on investment exploration to avoid killing the incentive for new exploration and secondary recovery. Under no circumstances should this tax be retroactive; retroactive taxation is theft!